About Canine Country Kennels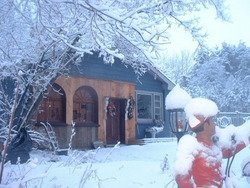 Canine Country Kennels is situated on ten picturesque acres just south of Barrie, Ontario in the Township of Essa. There are six acres of forest and hiking trails as well as large grassy area for games of fetch and frisbee. There is a beautiful creek that runs through the property and the dogs love to take a dip in the shallow water on hot summer days.
Many of the dogs favourite feature of Canine Country Kennels is the addition of Canada's largest Canine Dock Pool to the property in 2010! The dogs can swim and play in clean water and enjoy of the best forms of exercise thereby having fun and keeping healthy at the same time. The pool area is 100% securely fenced in, allowing lots off leash romping and play time in between dock and pool time.
All the Canine Suites in the kennel are spacious and comfortable with raised beds and year round climate control. Dogs can come with their own favourite beds from home or we can provide them with cushy soft blankets and comforters to lounge and sleep in. Dogs are housed individually, although we do have two double sized suites for clients with multiple dogs who wish to room together.
The dogs enjoy walks and hikes on the gorgeous property in addition to group play time (if appropriate, dogs will be screened for their suitability to group play time), individual play time one on one with a human and lots and lots of love and care from the staff. The dogs also enjoy plenty of kongs and chew toys in their individual suites.
We welcome visits but please call ahead for an appointment!