Zoe Shanoff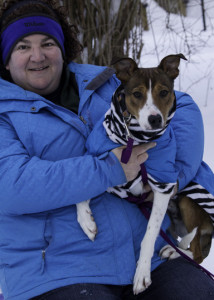 Zoe has fulfilled her lifelong dream by opening Canine Country Kennels and is dedicated to improving the lives of dogs everywhere. Zoe walked neighbours dogs from an early age and had an assortment of small pets throughout her life. It was a natural transition after experiencing the love and devotion of her first dog Sam that she worked towards fulfilling her dream of owning her own kennel.
Prior to the opening of Canine Country Kennels, Zoe provided a personalized dog walking service, Wag the Dawg, for 17 years in the Toronto Area. With over twenty years experience in the customer service field Zoe began to notice there was a difference in the level of care and service that dogs were given by various walkers and saw a niche for someone who truly cared about the animals to develop a superior caring and specialized service.
Zoe has attended many educational seminars and workshops on canine behaviour, positive dog training, animal care and husbandry, massage therapy, Bach Flower Remedies and many other canine behaviour topics from such leaders in the industry as Jean Donaldson, Kathy Sdao, Dr. Jean Dodds, Don Hanson and Ian Dunbar to name a few. Zoe has earned Pet First Aid Certification and continues to participate in events and seminars that will enhance her knowledge of canine behaviour and care to ensure she is always providing the healthiest and safest environment for all the special canine guests to her country kennel.